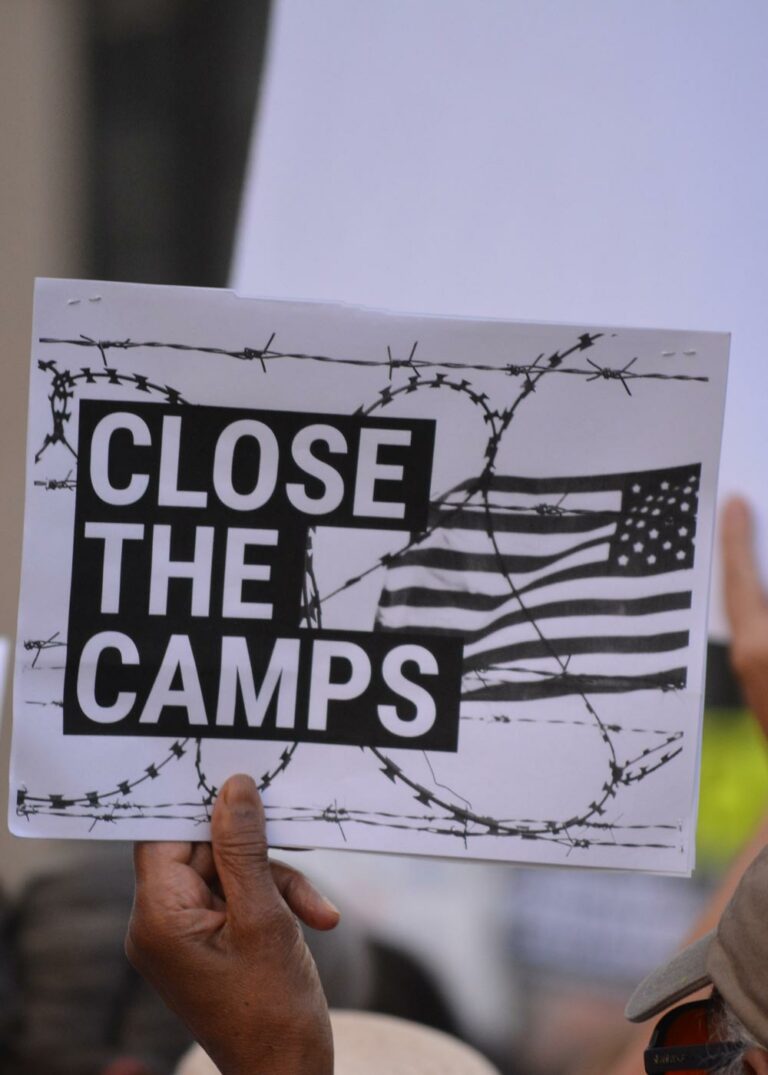 Immigration Justice Program
The NLG-SFBA's Immigration Justice Program engages NLG members and other community members in learning about, monitoring, and holding accountable the US immigration system as it exists in the Bay Area and beyond.
IMMIGRATION JUSTICE COMMITTEE
NLG-SFBA opposes detention and deportation, including those based on immigration status, and works to improve the laws and policies that affect immigrant communities.  
The NLG-SFBA Immigration Committee is composed of attorneys, students, and legal workers who work together to provide Know Your Rights (KYR) trainings, train community members to lead KYR trainings, and hold immigration court accountable through a Collaborative Court Watch program.  
The Committee is consisted of three work groups focused on different areas of Immigration Justice:
Immigration Court Accountability: This group expands the Immigration Court Observation Program (ICOP) and the 'Fire Immigration Judge Ford' Campaign.
Decriminalization, Decarceration, and Abolition: This group dedicates their work towards abolition of detention centers by connecting with other projects who are monitoring their local detention centers.
Public Advocacy and Education: This group uplifts anti-racist work through educating lawyers and illustrating the profitable relationship between the tech industry and the immigration system.
The Committee's listserv of over 300 members also provides a space for practitioners to keep updated on changes to the law and policy, seek practice advice from other immigration attorneys and legal workers, and to support communities and organizations fighting mass deportation and the criminalization of immigrants.
The Collaborative Court Watch program of the National Lawyers Guild San Francisco Chapter seeks to bring greater transparency and accountability to Immigration Court by training volunteers to attend and observe immigration hearings and document any violations of immigrants' due process rights. 
The Collaborative Court Watch program trains law students and other community member volunteers to attend and observe detained immigration court bond and master calendar hearings and to document violations of immigrants' due process rights. Observation is particularly needed now because many of the judges in San Francisco Immigration Court are recent appointees. Although immigration court hearings are open to the public, few people attend to observe these proceedings. There is no right to public counsel in immigration court with limited exceptions and, therefore, only 15% of immigrants in detention are represented by attorneys. This means that the vast majority of immigrants have no choice but to go up against the Department of Homeland Security attorneys on their own. By maintaining a constant presence in San Francisco Immigration Court, the Collaborative Court Watch program keeps pressure on judges to hold them accountable, helps make court hearings more transparent and identifies any needs and trends in immigration court that impact immigrants' due process rights.

Ready to start volunteering as an immigration court observer?
Volunteering as an observer starts with getting trained. Training includes an overview of immigration law, immigration court proceedings including bond, master and individual hearings  in removal or deportation proceedings. Trainees are introduced to and deportation/removal process, important things to note while observing, options for supporting a person in immigration proceedings, and how to contribute to national court observation data. Once trained, volunteers immediately can start attending immigration court hearings and submitting observation data. Fill out this form to volunteer: bit.ly/courtwatch1  
If you're part of a group or organization that would like to start sending observer teams to San Francisco court hearings, request a training to get started. Request a Collaborative Court Watch Training for your group or organization here.
Want observers and court support at an upcoming immigration hearing?
If you would like court observer-supporters at your or your client's immigration hearing, fill out the form at http://bit.ly/SFcourtwatchrequest. 
Resources for Migrants and Advocates
Court Watch Volunteers, this is a page of resources for supporting those immigration proceedings and their loved ones.
Immigration Partner Organizations
Stay informed and engaged!
Join our Immigration Listserv, a forum in which to discuss and share immigration information with progressive lawyers and legal advocates.
Sign up for the NLG-SFBA's weekly newsletter, which includes Immigration Justice Program updates. 
Take action for immigration justice! See a list of actions and events below.